In the intricate world of bearings, one category stands out for its ubiquity and versatility – the Deep Groove Ball Bearings. These bearings have become a cornerstone in various industries with their intricate construction and exceptional performance characteristics. Let's take a closer look at Deep Groove Ball Bearings, their specifications, and the types that cater to diverse applications.
Understanding Deep Groove Ball Bearings
Deep Groove Ball Bearings are a fundamental component in the machinery landscape, serving an array of applications. They typically consist of an inner ring, an outer ring, balls, and a cage. Variants of these bearings come with features like steel shields, rubber seals (both contact and non-contact types), snap-ring grooves with snap-rings, and a variety of cage types. This diversity in options allows these bearings to be tailored to specific needs across industries.
Single Row and Double Row Bearings
Deep Groove Ball Bearings come primarily in two types – Single Row and Double Row.
The single-row bearings are designed to handle radial, axial, and composite load applications, making them a definitive choice for a wide variety of scenarios.
On the other hand, double-row bearings share the design of single-row ones but boast deeper raceways and higher conformity between balls and raceways. This design enhancement enables double-row bearings to carry axial loads in both directions while managing radial loads effectively.

Variations within Deep Groove Ball Bearings
Within the realm of Deep Groove Ball Bearings, there are further classifications:
Miniature and Extra Small Ball Bearings: These categories are defined by their outer and bore diameters. Miniature Ball Bearings have an outside diameter of less than 9 mm, while Extra Small Ball Bearings have an outer diameter greater than or equal to 9 mm and a bore diameter of less than 10 mm. These bearings cater to specific size requirements and are available in various materials, including Stainless Steel.
Magneto Ball Bearings: With a design reminiscent of Radial Bearings, Magneto Bearings feature a shallower inner ring groove and a relieved outer ring. This unique design makes them convenient for mounting.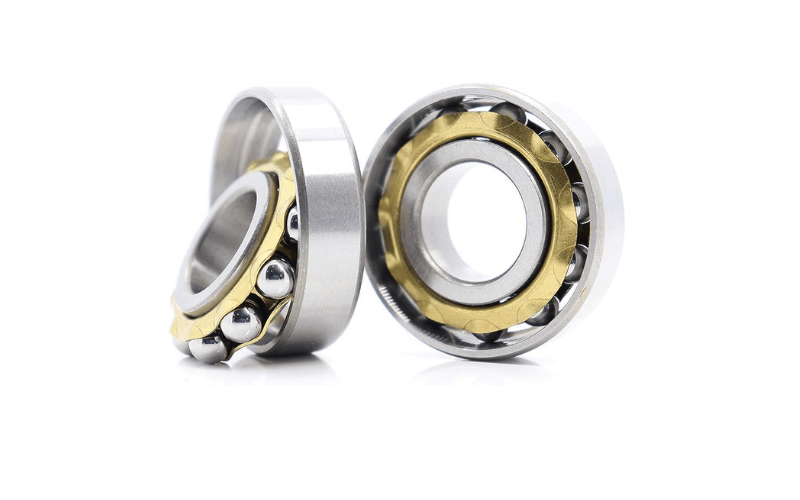 Features of Deep Groove Ball Bearings
These bearings offer a host of features that make them indispensable in various industries:
Load Carrying Capability: Deep Groove Ball Bearings excel in uni or bi-directional load carrying with higher radial load capacity.
High-Speed Rotation: Thanks to their design and precision manufacturing, these bearings can handle very high-speed rotation scenarios.
Running Accuracy: Deep Groove Ball Bearings are known for their exceptional running accuracy, contributing to the overall efficiency of machinery.
Low Noise and Friction: These bearings operate with low noise and friction torque, ensuring smooth and efficient motion.
KG's Contribution to Deep Groove Ball Bearings
KG International understands the significance of Deep Groove Ball Bearings in industrial applications. We offer an extensive range of these bearings, as defined by the ISO standard plan. These bearings are meticulously designed and manufactured to meet the highest standards of quality and performance. Our offerings cover a wide spectrum of specifications and variations, ensuring that industries can find the perfect match for their unique requirements.
Read More: Crucial Steps In Handling Bearings Effectively